A Commitment of Over Half A Century
We are committed to achieve customer satisfaction through innovation, performance and continuous improvement of our processes. Since inception in 1972, we have quality control policies, equipments, proprietary processes, and certifications that tell tales of our quality focused journey.
We haven't missed a delivery deadline in half a century!
This has enabled us to become one of the preferred and leading manufacturer for global organizations.
Below are key certifications and our policy that can give an idea of how diligent we are.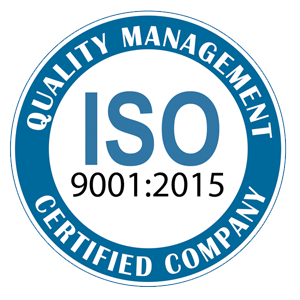 First and foremost, we are an ISO certified organization. Our ISO 9001 certification guarantees that you get good-quality products and services, consistently. Our effective quality management system comprises of productive employees and a highly streamlined supply chain system. This ensures you receive the highest quality products that meet all applicable requirements on time.
Rajamane is proud to be certified by the International Standard for Automotive Quality Management Systems. IATF emphasizes the development of a process-oriented quality management system that provides for continual improvement, defect prevention, and reduction of variation and waste in the supply chain. This further emphasizes our goal to meet customer requirements, efficiently and effectively.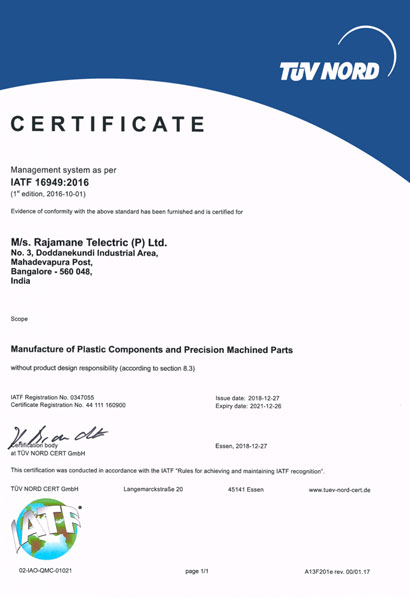 Our talented employees are trained thoroughly to operate some of the highest quality machinery. This ensures that wastes are eliminated and defects are reduced. We assure the highest quality standards. We continually monitor and evaluate our processes and policies and aim to raise the standards we are known for.
Pandemic Precaution Policy
Our products are manufactured with utmost care. We take proper measures to ensure sanitary practices within our facility and can vouch for our safe and effective production. All our employees are screened before entry and sanitizing stations are placed at short intervals within the facility for safety. All employees follow covid-19 guidelines with the usage of masks and regular sanitization.
Customer Satisfaction Guaranteed
The satisfaction of our customers is very important to us.  We at Rajamane inspect every stage of manufacturing. In addition, production is regularly monitored by a dedicated team to make sure all the processes are scheduled accordingly. Rajamane uses an extremely streamlined and modern manufacturing process to ensure our customers only get the best. Designed with passion and built to perfection, Rajamane is synonymous with quality.

No.3, Doddanakundi Industrial Area, Mahadevpura, Bangalore 560048 India